Finished watchin it yesterday and now its review tme!! :)
Crows ZERO is a film based on the comic book Crows by Hiroshi Takahashi. The film was directed by Takashi Miike, written by Shogo Muto and stars Oguri Shun and Yamada Takayuki. The movie is the untold story behind the characters in a feuding high school
Crows Zero (Kurôzu zero) Trailer:
PLOT:
The Suzuran Senior High School for Boys, nicknamed "The School of Crows", is the poorest achieving, most violent school in the country.
The students are called "crows" and they band together in factions, battling each other for influence and power. But they all share a common goal, one that has never been reached in the school's history: unification. No one faction has ever reigned supreme.
Crows ZERO is a story which centers around the characters Genji Takiya and Tamao Serizawa. Tamao who is gradually conquered Suzuran High School is challenged by Genji Takaya who is a newcomer. Genji have to conquer the school so that he can be the succersor of his father's Yakuza syndicate. Along with their own teams, the two 'monsters' have to fight each other in order to be the leader of Suzuran High School.
Director: Takashi Miike
CAST:
Shun Oguri:
Takayuki Yamada:
Kuroki Meisa =3:
More Cast
HERE!
I Say:
The beginning of the movie didn`t impressed me because I got the feeling that this movie will end up like Gokusen(Drama), same concept; a bunch of delinquents fighting
each other but then I was wrong! The movie eventually trail into a story about punk kids fighting for reign over their high school. There were also a handful of unexpected hilarious and quirky parts that added to the enjoyment of this 2hr movie of violent action. The cinematography was brilliant, from the fighting scenes to the use of umbrellas at the end. Takashi Miike's style, shot choices, and pacing are dead on perfect. Crows Zero is based on the hugely popular manga called Crows. Miike does inject some manga like trademarks into the film and they are a whole lot of fun. Crows Zero also delivers some amazing fight scenes. However, fighting is not all the film is about, it's also about freindship and honor. Miike uses these themes extremely well, you may even feel your heart strings being tugged at in a few scenes.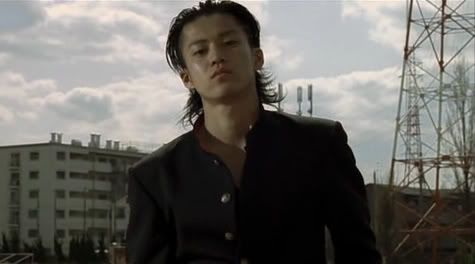 There is also some great dark comedy to be found in the film. One scene where Genji, Makise and Ken try to set up one of their friends on a date had me laughing out loud for a while. From the acting to the action and genious dark comedy, Crows Zero is perfect. If you are a
Takashi Miike
fan, or you enjoy watching Gokusen(Anime and drama like I do!) do yourself a favor and check it out immediately! ;)
Tamao's Team,from left: 2 Mikami Brothers, Tokaji, Tamao Serizawa, Tokio, Shoji and Hashio
Genji's Team
(
GPS: Genji Perfect Seiha
),
from left:
Izaki, Makise, Genji Takaya, Chuta, and Ken Katagiri
Crows Zero II Trailer(Cant find the DVD!! =S):